One of my writing buds, the awesome Christi J. Whitney, author of Grey (coming in April from HarperVoyager!!), tagged me for the "Very Inspiring Blogger" Award. You can read Christi's post and learn about what makes her so awesome here.
The rules are simple: List seven things about yourself and then tag others to do the same.
So, let's get this party started…
1. As much as I'd like to think I'm one of the cool kids, I'm a total nerd.  I'm the one that loved school and taking tests.  Bring on those standardized tests!!  Yup, that's me. 
2. I was possibly Scottish or Irish in a previous life, if you believe in that kind of thing.. 
3. I used to be a professional athlete.  Yup – I got paid to run laps around a track. I didn't make a whole lot of money, but I had a heck of a lot of fun traveling around the world, and still have tons of gear from my shoe and clothing sponsor.
4. I could live off of Starbucks iced coffee and Catoctin's Dark Chocolate Drenched Caramel popcorn. Seriously, I could.
5. My husband proposed to me on top of the Eiffel Tower – and I didn't say, "Yes!" 
6. Even though I create pictures with words, I still have trouble considering myself an artist.
7. I hate the Oxford comma, but have come to accept its place in my life.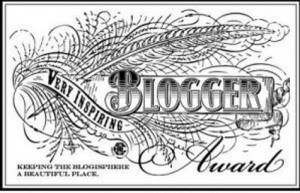 I hope you enjoyed getting to know a little bit more about me. 
I'm going to be a rebel and withhold nominating anyone.  But if you are so inclined to join the party, leave a comment below telling me you want in on the fun and be sure to tell us your URL.
<
p align="center">– TL –